One installation for 41 programs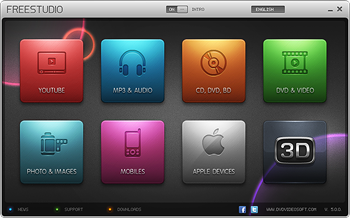 DVDVideoSoft FreeStudio
packages more than 40 programs for converting and burning into one eye-candy application.
You can convert YouTube video into MP3, Audio CD to MP3, WAV, APE, and FLAC format, Video to Mp3, Flash, DVD, MKV, AVI, and MP4 format. Despite having a slew of conversion tools, it lets you burn CD/DVD and Blu-Ray discs on the fly. It offers plentiful of disc authoring tools to burn videos, DVD files, audio tracks, and to create Audio CDs from MP3 files.
Features list doesn't end here, image manipulation tools have also been included to convert and resize images, convert video files into pack of JPGs while both 3D photo and video maker are also available. It supports all Apple Devices, allowing you to convert audio and video files into supported formats for Apple TV, iPhone, iPod, and iPad. Apart from supporting all the formats, it has an ability to convert audio and video files into famous portable devices, gaming consoles, and other smart phone formats, including, Andriod, Blackberry, HTC phones, Motorola, Nokia, Xbox, Nintendo, and PSP.
Supported OS:
Windows XP/Vista/7
Description
New Free Studio Manager is a completely redesigned all-in-one package for our programs. It contains 8 sections to bundle all free multimedia applications which have been developed by DVDVideoSoft. These sections the following: YouTube, MP3&Audio, CD-DVD-BD, DVD&Video, Photo&Images, Mobiles, Apple Devices, 3D. Thus all the programs are included in the new interface for easy access to any of them.
With this free software you can convert video and audio files between different formats and to iPod, PSP, iPhone, BlackBerry and all popular mobile phones and devices; burn and rip DVDs and audio CDs; upload and download YouTube videos and music to your computer, iPod, PSP, iPhone and BlackBerry; perform basic editing of audio and video files as well as record videos and make snapshots.
Free Studio contains no spyware or adware. It's clearly free and absolutely safe to install and run.
Free YouTube Download
Free YouTube to MP3 Converter
Free YouTube to iPod and PSP Converter
Free YouTube to iPhone Converter
Free YouTube to DVD Converter
Free YouTube Uploader

Free Video to Android Converter
Free Video to Apple TV Converter
Free Video to BlackBerry Converter
Free Video to HTC Phones Converter
Free Video to iPad Converter
Free Video to iPod Converter
Free Video to iPhone Converter
Free Video to LG Phones Converter
Free Video to Motorola Phones Converter
Free Video to Nintendo Converter
Free Video to Nokia Phones Converter
Free Video to Samsung Phones Converter
Free Video to Sony Phones Converter
Free Video to Sony Playstation Converter
Free Video to Sony PSP Converter
Free Video to Xbox Converter

Free DVD Video Converter
Free Video to DVD Converter
Free Video to Flash Converter
Free 3GP Video converter
Free Video to MP3 Converter
Free Video to JPG Converter
Free Audio Converter
Free Audio to Flash Converter

Free DVD Video Burner
Free Disc Burner
Free Audio CD Burner
Free Audio CD to MP3 Converter

Free Screen Video Recorder
Free Image Convert and Resize
Free Video Dub
Free Audio Dub
Free Video Flip and Rotate

Free 3D Photo Maker
Free 3D Video Maker